British Honour to Tony Iommi: Petition
What is the British Honour and why we think that Tony Iommi should be awarded it.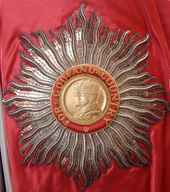 One of the purposes of this website is to secure an honour for Tony Iommi under the British Honours system. With five decades of service to music, accredited with the creation of heavy metal music and commanding the full respect of his peers, we hope, with your help to show that this great Briton should be honoured by Great Britain.
So just what is a British Honour? Well, according to Debrett's, (Debrett's are the authority on British Honours) "honours are awarded for gallantry on the field of battle, for courage shown in civilian life, for business, sporting or creative achievement".
People are awarded for great achievements in any field of work (including arts and media), personal bravery, and those who've committed themselves to serving Britain. They will usually have made life better for other people or been outstanding at what they do.
People get honours for achievements like: making a difference to their community, enhancing Britain's reputation, innovation, long term service, changing things, displaying moral courage and vision in making and delivering tough choices. Which honour someone gets is decided by members of honours committees ( in our case – Arts and Media committee ), and their decisions are passed to the Queen, who awards the honour.
The honours in order of decreasing are:
Companion of Honour
Knighthood
Together with a Companion of Honour, Knighthood is one of the highest and noblest honours an individual in the United Kingdom can achieve. The origins of Knighthood are obscure, but they are said to date back to ancient Rome. In ancient times the method of knighting was that used on battlefields, when the candidate was stricken with the sword upon his back and shoulder and receive a title "Sir".
In our times it's given for a major contribution to the arts or other activity. Other people working in the nominee's area will see their contribution as inspirational and significant, requiring commitment over a long period of time.
Commander of the Order of the British Empire (CBE)
Officer of the Order of the British Empire (OBE)
Member of the Order of the British Empire (MBE)
These honours are given to people for significant achievement or outstanding service to the community on a national level. You cannot recommend a person for a specific award, only an award which will be decided by the committees above. However, many British musicians have been awarded an MBE and then a Knighthood. An example being Sirs Paul McCartney, Mick Jagger, Bob Geldof. Brian May of Queen received a CBE and it's a fair bet that he will eventually be knighted for his services to music and many other things, ranging from astronomy to animal welfare.
You can read more about awards on https://www.gov.uk/honours/overview.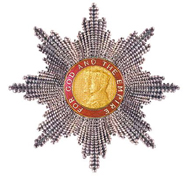 Tony Iommi internationally recognized as a pioneer and creator of a new genre of music - heavy metal. He ranked as the best guitarist in heavy metal history, and one of the best influential guitar players of all times. Over the past five decades Tony Iommi became a British cult figure known and admired all over the world, inspiring generations of musicians and fans. An exemplary hard worker, from 1970 to our days he was the only continual member and driving force behind his band Black Sabbath, leading his band through financial and manage problems. During his career he sold over one hundred million discs serving to the British music industry. He supported a lot of charity projects as well.
Tony Iommi inspired a lot of people with his courage and great determination in not giving in twice: when he lost the tips of his fingers in a cruel accident early in his career, and being a Lymphoma cancer survivor recently. Mr. Iommi was born in Aston, Birmingham. Unlike so many of his professional colleagues, he never left his country for USA or others, where taxation is less and as he always says, he is very proud of his Brummie heritage.
Mr. Iommi has not been committed to any political, racial or religious activity. His only concern was and still is composing and playing music. A gracious modest image, perfect speech and decent behavior make him a true gentleman, a perfect Knight.
As an Ambassador for Birmingham and UK, his music continues to ensure that Britain is seen as the primary home of heavy metal music. For this great achievement and the many others Mr. Iommi has achieved over the past fifty years of his work, we respectfully ask the British Honours committee to consider an honour for him which reflects the honour he has brought to Great Britain.
Petition
If you are reading this page it's probably because you are a fan of Mr. Iommi, you appreciate his work, his achievements with music and charity activities. If this is the case and you would like to support us in our aims, please sign this PETITION.
If you know or have known Mr. Iommi personally, you are familiar with his services to music, or you are aware of his charity work; you are Mr. Iommi's friend, colleague, neighbour, etc., you have first hand knowledge of his contribution to musical industry, and you want to support us, please, contact the IOMMI HONOURS COMMITTEE (IHC).
All information from fans and supporters is confidential and secure.